This review is based on an advance reader copy provided by the publisher.
I love Ella Enchanted. I love Gail Carson Levine's entire bibliography. If you haven't seen it, I've written an essay on the impact Ella Enchanted has made on my life. So when I got the chance to read Ogre Enchanted before it officially comes out, I was psyched. This book can stand alone, but it's also a prequel featuring characters from the generation before Ella.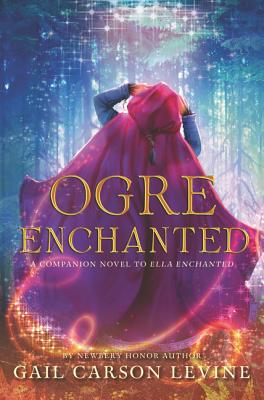 There's a suggestion of a Beauty and the Beast narrative, but Ogre Enchanted is content to leave it as a vague inspiration rather than the basis of the tale. In fact, the Beauty and the Beast story canonically exists as a fairy tale in this universe. This stands in contrast to Ella Enchanted and Fairest, which are retellings, albeit ones that take great liberties with the source material.
Our protagonist, Evie, turns down a marriage proposal from her friend Wormy in the presence of the familiar fairy Lucinda, who turns her into an ogre in retaliation. If Evie can't secure and accept another proposal within the time limit, she'll remain one forever.
The main appeal for me as a fan of Levine is the expanded world-building. This story sheds light on the workings of ogre culture and magic, gives important background information on the history of Kyrria, and explains how Ella's parents got together. The main plot-line is solid enough, but it seems a bit formulaic, and I would have preferred a different ending.
Spoilers under the cut.
In the end, Evie accepts a proposal from Wormy after their adventures wind to a close. I think Levine makes great points through the story about how young people should wait for romance until they're ready, but I think she could have made a stronger point by letting Evie remain an ogre forever or break the curse in some other way. Don't get me wrong; Evie and Wormy's relationship is as healthy as it can be under the circumstances, but they are still being forced into marriage as teenagers. They choose not to get married right away, but they also don't have an option to change their minds later, or Lucinda would surely take revenge on them.
On the other hand, Levine's handling of Peter and Eleanor's relationship is an example of when Lucinda's tricks don't resolve themselves peacefully, and I appreciate it even as I find it heartbreaking. I suppose that making Evie remain an ogre forever on top of this would be a bit dark for a children's book.
While Ogre Enchanted doesn't shine quite as brightly as Levine's other works, it's a welcome trip back to Kyrria for fans of that world, and it stands on its own as a wholesome children's story with a positive message.
Ogre Enchanted is out on October 18th — just in time for Halloween! You can pre-order it here.
Rating: 3.5/5 stars.
You may also like:
Check out my masterlist for the rest of my posts and reviews!