I was excited about Vox for one reason — the main character is a neurolinguist. What's more, she is an accurately written neurolinguist, since the author has a PhD in linguistics herself. I studied linguistics in college, so having accurate representation of my field out there is important to me. Then why didn't I finish it?
Time constraints. At my library, new books are lent on a two-week basis, no renewals. I had to give it back. To be honest, though, I had the appropriate amount of time to read this book, but it didn't excite me enough to finish it before the deadline. It's a decent book, based on the 75 pages I did read of it. I would have finished it eventually if not for the due date. Still, I'd like to talk about why, as a linguist, I didn't really get the book I was expecting.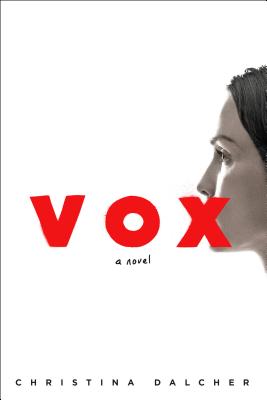 Vox is set in a dystopian future where women are allotted 100 words per day. For every word after that, a wrist cuff administers a shock that increases in intensity as the woman continues to speak. It's all very The Handmaid's Tale. In fact, it's a bit too The Handmaid's Tale. Every single blurb and review of the book latches on to this easy comparison. Dalcher seems determined to impress upon us that something like this, if not exactly this, could happen if we don't stop Trump and the fundamentalist right. The main character has failed to heed the warnings of her activist classmate from grad school, and now she's stuck in a world where women can't speak.
I mean, that's one way to motivate people to action, I suppose.
There's a strange disconnect between two segments of the U.S. population, in my observation. There are people who have firsthand experience with fundamentalist right-wing Christianity, and there are people who have only looked upon it from the outside. I've attended churches across the spectrum and known Christians of many different political shades. I find that books like Vox and The Handmaid's Tale cater to an audience that has never been involved in "that" part of the church and that often has little experience with religion at all. That's not to say that these books are necessarily wrong in their portrayals, but they lack nuance and a real understanding of how the religious right thinks. Religious characters seem like caricatures.
Margaret Atwood has given enough interviews about her work that we can understand how she formulated Gilead, but there is much less to go on with Dalcher. While she names her inspiration as the Cult of Domesticity, this doesn't tell us about her own religious background and how it informs her writing. I don't think readers are entitled to know her beliefs or her upbringing unless she chooses to share it, but I do think it's a relevant point to consider on my end when analyzing a book that criticizes religion and politics.
With regard to linguistics, Vox is factual, or at least it is up to the point I read. And that's great, but in terms of science fiction, it's a bit of a snooze. Arrival might not have accurate linguistics, but at least it's creative with linguistic concepts. Dalcher writes about Wernicke's aphasia in layman's terms, paragraphs I skimmed with a yawn. It's a decent introduction to the topic, but from what I gather, she doesn't take this aspect of the storyline anywhere particularly speculative.
The more interesting linguistic question she raises is about speech development in children. The main character's daughter Sonia seems to receive an appropriate amount of linguistic input, but she isn't allowed to put it into practice by speaking herself. The women of this society begin to invent sign languages, but the authorities cotton on quickly and shut them down. Any linguist can tell you that with such stunted language use in childhood, a girl like Sonia would end up with permanent linguistic disabilities. I hope that Dalcher explores this idea with imagination, since she's creating a generation of test subjects for the most unethical of linguistic studies: what happens when you raise a child without speech? Only a small handful of abused, neglected, or "wild" children have been observed by researchers to this end.
The thing is, I could be wrong, but I don't see room in the narrative she sets up to properly explore the ramifications of the 100-word policy. Its consequences would be on a generational scale, and her plot seems to be fairly real-time.
I want to highlight again that I only read the first 75 pages of this book. Many of my qualms could easily be wiped away in the rest of the story. I just wanted to give some of my thoughts as a linguist, even though I wasn't able to read the entire thing. Maybe when the initial library rush has died down I'll pick it up again and do a follow-up.
One thing's for sure: Vox has ignited in me an appetite for more linguistic science fiction. Send the recommendations my way if you have them!
You may also like:
Check out my masterlist for the rest of my posts and reviews!