What burdens we lay on the dying … seeking to prove some little thing that we can keep to comfort us when they can no longer feel–something as incapable of being kept as of being proved: the lastingness of memory, vigilance against harm, self-reliance, good hope, trust in one another.
What do you expect from a book about grieving? It's probably not what you get from The Optimist's Daughter, which strikes a light and philosophical tone as it follows Laurel through the death of her father. Beleaguered by well-meaning mourners and her too-young stepmother, Fay, Laurel tries to make sense of her father's life and actions, especially his taking a second wife after the passing of her mother, Becky.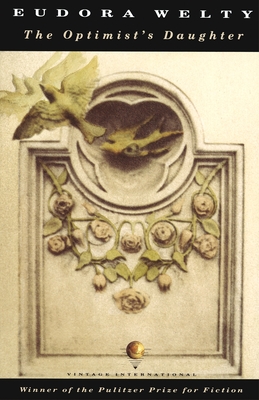 Laurel, although she is the central character, often fades into the background as she observes other characters. While others make her father's death about themselves, fluttering around and making a spectacle, Laurel is determined to remember her father as he was. She wants nothing more than to arrange the aftermath of her father's passing the way he would have wanted it, but Fay's self-centered plans get in the way.
Funerals. The chaos of trying to plan an event in the midst of deep sadness. Reminiscing. The odd moments of joy and laughter that follow. The empty silence when it's over. Sorting through your loved one's belongings. Welty takes us through the entire process. It's just realistic enough to not feel so sad. Thankfully, I haven't been through the loss of a parent, but I related intensely to the sheer strangeness that permeates the loss of a loved one. Funeral receptions feel surreal to me, and the distribution of a family member's belongings can be a difficult process.
There are also the questions. Who was Judge McKelva? Was he who Laurel thinks he was? Why did he remarry? Do those left behind deserve to impose on the privacy he held in life?
This book is easy to read until it isn't. The very ending brought tears to my eyes, although I hadn't felt particularly sad up until that point.
Usually when I read a book, I have some meter going in the back of my mind measuring how much I like it, where the strengths are, where the flaws are. That didn't happen with this book. I just read it. It's a short read, so if you get the chance to get through it in one or two sittings, you should absolutely do it. With a colorful cast of characters and simple poignancy, there's nothing not to love about The Optimist's Daughter.
I recommend this as a thoughtful, relaxed read to enjoy when you have the time and the focus to absorb it fully.
Rating: 5/5 stars.
You may also like:
Check out my masterlist for the rest of my posts and reviews!