It's October 31st, and in my family, that means more than just Halloween. It's my mom's birthday. So while I've spent most of October celebrating the spookiest month of the year, today I'm reserving space for something more important.
That's how I ended up reading Standing Tall, a choice I never would have picked for myself, simply because I'm not usually interested in sports. My mom, however, has always loved them, and she has oodles of school spirit for her alma mater, Rutgers University. Therefore, she decided to challenge me with a book close to her heart: the autobiography of C. Vivian Stringer, the head coach of Rutgers women's basketball. As of the publication of this post, she is only three victories away from coaching her thousandth win. ("Make sure to mention that," said Mom.)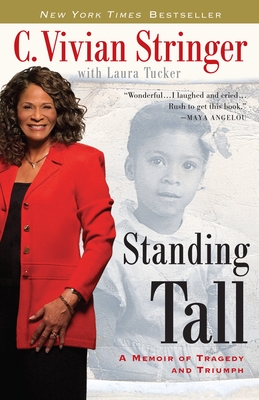 After reading this book, I understand more why my mom is so passionate about Rutgers basketball, and I especially see why she admires Coach Stringer so much. Coach Stringer rose from poverty, became the first in her family to graduate from college, and became one of the most respected coaches in the country, even as she has dealt with a devastating string of personal losses and difficulties. She has also been an advocate for women, and especially black women, in the athletic world.
While I self-identify as "not athletic," I actually was co-captain of my high school fencing team, and there was a time I dedicated two hours a day, six days a week to that sport. With that in mind, I have a lot of respect for my former coach, Coach Amy Lawless, who I thought of a lot while reading this book. They're both unmistakably coach-y. Coach Stringer tells the story of her life, but throughout the narrative, she expounds on individual anecdotes to teach lessons useful both on and off the basketball court. She describes moments where she had to be tough on her teams, but also shows herself to have a deep well of love in her heart for her players.
Having played on a team myself and done a certain amount of coaching as a captain, I can empathize with a lot of the struggles she has had that are related to her work. As she relates pushing her good players to do better, being exasperated with players who refused to put in the work, and dealing with obnoxious parents, I find that much of it consists of things I've heard, said, or done before. When I think of all the times my teammates tried to weasel their way out of harder drills or longer practices… oof, I'm with you, Coach Stringer, Coach Lawless, and all the coaches in the world. Building others up to work hard and do better for themselves is itself hard work!
There is also a lot in this book, though, that I cannot personally relate to and indeed can barely imagine. Coach Stringer has been dealt difficult cards in her personal life: the disability and early death of her father, the disability of her daughter, the early death of her husband, frightening near misses with both of her sons, and her own fight with breast cancer. Through all of these struggles, Coach Stringer makes no secret of the suffering she endured and how hard it was for her to handle everything. Thanks to the support of the people around her, though, she has been able to pull through, and she believes that she has endured so much so that she can be a better comfort to others.
I found this book to be genuinely inspiring. This is not a glossy, self-promoting autobiography, but rather a meaty and personal memoir that shares in order to teach. If you're looking for a new hero, especially one who is a successful black woman, I recommend checking out Standing Tall.
Rating: 4.5/5 stars.
You may also like:
Check out my masterlist for the rest of my posts and reviews!