In the wake of the French Revolution, one man stands against the Terror and the bloodthirsty guillotine. He is known as… the Scarlet Pimpernel!! In this pulpy adventure-romance, Emma Orczy originates the trope of a hero with a secret identity.
The main character is not the Scarlet Pimpernel, but rather Lady Marguerite Blakeney, a clever Frenchwoman married to a handsome, wealthy, and stupid Englishman. When an old acquaintance blackmails her into joining his efforts against the Scarlet Pimpernel, she struggles between her personal good and the greater good.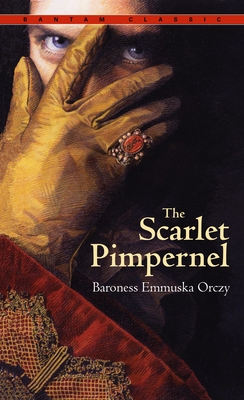 This book reads the way you might expect from the description. It's chock full of action and adventure, the Scarlet Pimpernel maneuvering himself out of high-stakes situations at the last moment. Or, rather, he very often prepares his escape before he's even trapped. Like in Sherlock Holmes, there are builds to elaborate reveals.
Unlike in Sherlock Holmes, though, these reveals can be fairly predictable. I was taken in by one or two of the Pimpernel's tricks, but I was able to foresee the better part of the last third of the book. I enjoy figuring out a twist here and there, but in this case, some of the puzzles are just too easy.
Also, as you might expect from a novel with anti-Revolution tendencies, there is a hefty dose of classism with sides of sexism and racism. It's such a light and frolicsome read that I couldn't take the author's biases too seriously, but if these things are likely to ruin your reading experience, steer clear.
Nonetheless, The Scarlet Pimpernel is a fun and swashbuckling sort of read. Like a modern-day action film, it's meant more for a thrilling ride than anything else. I recommend it to anyone looking for a short book that goes down easy, especially if you're trying to get into classics, but are intimidated by more complex works.
Rating: 4/5 stars.
You might also like:
Check out my masterlist for the rest of my posts and reviews.